Whether you are responsible for your company's Network Operations Center (NOC), or you are just generally interested in the topic of infrastructure monitoring, this article will be of interest to you.
We built the Action Launchpad module for NetEye to simplify the execution of remote commands (proactive actions). When resolving some anomaly you find yourself needing to execute a well-defined sequence of steps, you can automate this using the Action Launchpad. The Launchpad works by exposing a web interface to execute predefined commands on certain servers.
One example is the restart of a web service. Consider this on a Linux machine: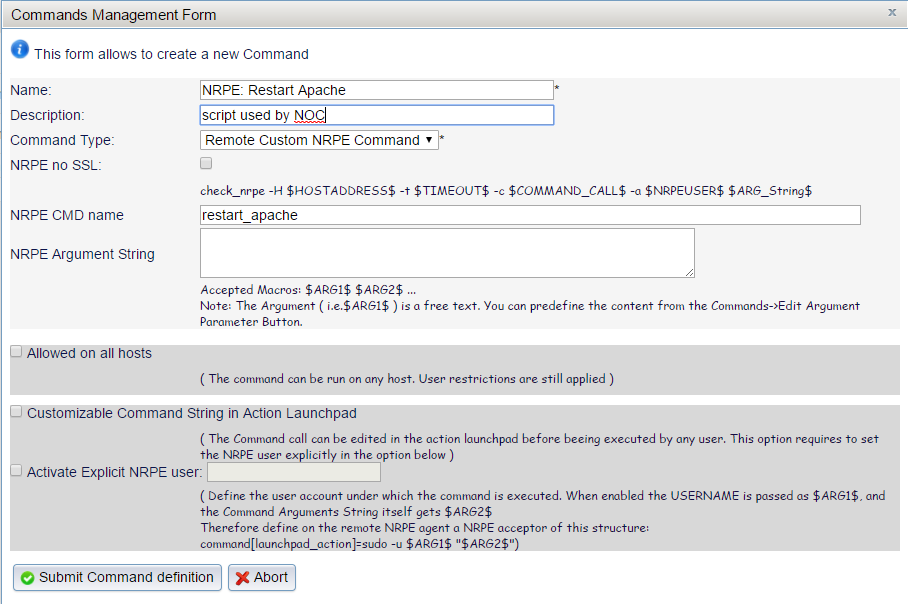 What we want to do is define a command on the Action Launchpad (see the image above). We add the following entry to the file nrpe.cfg on the target server (on which the NRPE daemon needs to be installed):
command[restart_apache]=/usr/lib/nagios/plugins/restart_apache.sh
restart_apache.sh is a script that restarts the Linux web service. restart_apache in the field NRPE CMD name in the image above is the name we give to this command (and which must match the command in square brackets in the line above).
We now assign the command to the correct group and to the relevant single users. That's it.
With these few simple steps, we are able to create a tool to execute commands without the need to log on the server.
What are, generally speaking, the most important advantages of the Action Launchpad module?
Many problems can be directly solved by 1st-level support, even if the staff does not have profound technical knowledge
Repetitive jobs can be scheduled
The risk of incorrectly executed commands drops to almost zero.
This article quickly described the main advantages of the Action Launchpad module. Obviously, there are countless application possibilities, just follow your ideas.  The Würth Phoenix group of support staff and consultants is here to help if you need more information.
Action Launchpad
,
NetEye