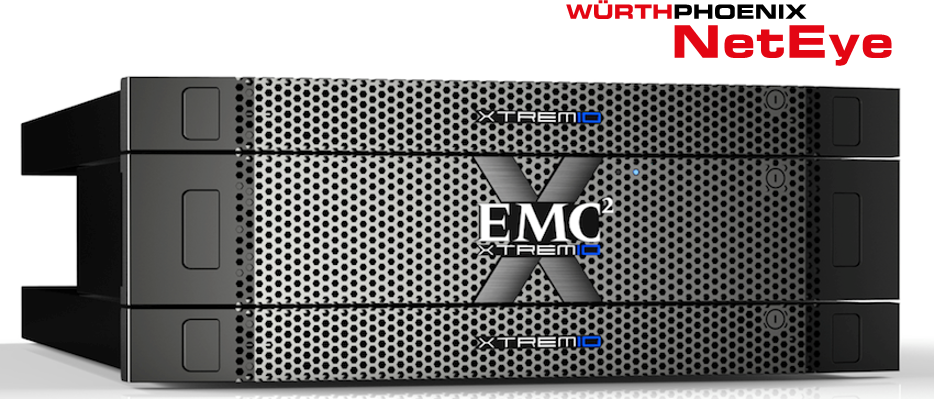 If you need to monitor a Dell EMC Storage XtremIO unit, then I have the right solution for you. Not long ago, I wrote an XtremIO storage tracking plug-in that can execute the following activities:
XTREMIO_CTRL_Status: monitors the controllers and the hardware status
XTREMIO_DPG_Status: controls the DPG groups from the storage array
XTREMIO_Storage_Efficiency: verifies and displays the actual XtremeIO "deduplication and compression" efficiency
XTREMIO_Storage_Space: checks the available storage space
But how does it work?

Here's the link to get the XtremIO monitoring plug-in . The monitoring procedure works using the XtremeIO EMC's REST API. All you need is to create a new user, which you can do by creating a username and password via the Web-Frontend. The archive contains the plug-in, a PHP file for pnp4nagios, and a service profile for Monarch (NetEye Monitoring Configuration Frontend).
If you use NetEye, then it will be quite simple to implement this solution. You just need to:
Copy the plug-in file (check_xtremio) into the directory /usr/lib/nagios/plugins of NetEye Servers
. The Profile files are downloadable from the link on the Blog and have to be unzipped on your PC and then uploaded from there with the "Upload" button on the Monarch > "Profiles" > "profile Importer" form. The files are in XML format.
By following the steps above you can add the following service checks:
XTREMIO_Cluster1_Dedup_Ratio: controls the Cluster1 LUN deduplication
XTREMIO_CTRL_Status: checks the controllers' status
XTREMIO_DPG_Status: monitors the Data Protection groups' status
XTREMIO_Storage_Efficiency: checks the data storage compression and deduplication efficiency
XTREMIO_Storage_Space: verifies the storage level
There are also other useful commands:
Registering and monitoring a specific API value:
/usr/lib/nagios/plugins/check_xtremio -H <host> -U <user> -P <password> -T command -K types/clusters/1 -f dedup-ratio -t dedup-ratio-text
Controller state
/usr/lib/nagios/plugins/local/check_xtremio -H <host> -U <user> -P <password> -T ctrlstate
Storage space usage: (Warning on 95% and Critical on 98%)
/usr/lib/nagios/plugins/check_xtremio -H <host> -U <user> -P <password> -T storage-space -w 95 -c 98
By installing this plug-in you can get your XtremIO Storage completely under control.
monitoring
,
NetEye
,
Storage
,
XtremIO EMC