23. 12. 2008
Patrick Zambelli
Predictive Analysis
Advanced PING graphs
Cacti allows with its graphing engine the representation of sophisticated graphs.
One of the principle values to graph is the ping response time average together with the possible packet loss.
Cacti enables you to pack both information in one single graph, while still remaining well structured and clearly readable.
As shown in the graphs below, the line indicates the ping with its reply time. The green color indicates in both graphs the rta of the majority of packages. The percentage of packages with an rta above or below this average is shown as shadow with changing intensity.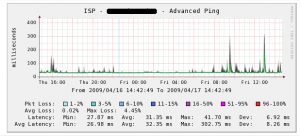 Eventual packet losses are indicated with colors as vertical lines along the graph. The percentage of lost packages is indicated in the legend below and starts from light blue going to dark blue over read for nearly complete packet loss.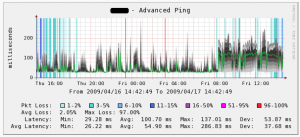 Here you can download the Cacti graph template:
Latest posts by Patrick Zambelli
See All