We are proud to announce the release of new minor versions of our IT System & Service Management solutions NetEye and EriZone.
NetEye 3.10
Besides important improvements, NetEye 3.10 comes up with new features in the areas of Network Analysis, Business Service Management and SAP Monitoring. Although, having added some new functionalities, in this release we particularly focused on increasing stability and improving existing modules. 
In past, information regarding new versions have been published as PDF here on our blog. From now on, we will maintain a NetEye Release Notes archive on our company webpage. (For the next release, such an archive will be created also for EriZone. However, release announcements will always be made on our blog.)
>> Go to NetEye Release Notes Archive on our company webpage. 

EriZone 5.1
Major Enhancements
New Agent Ticket Creation Form: the ticket creation form has been improved in order to support the agent in a faster and more productive ticket creation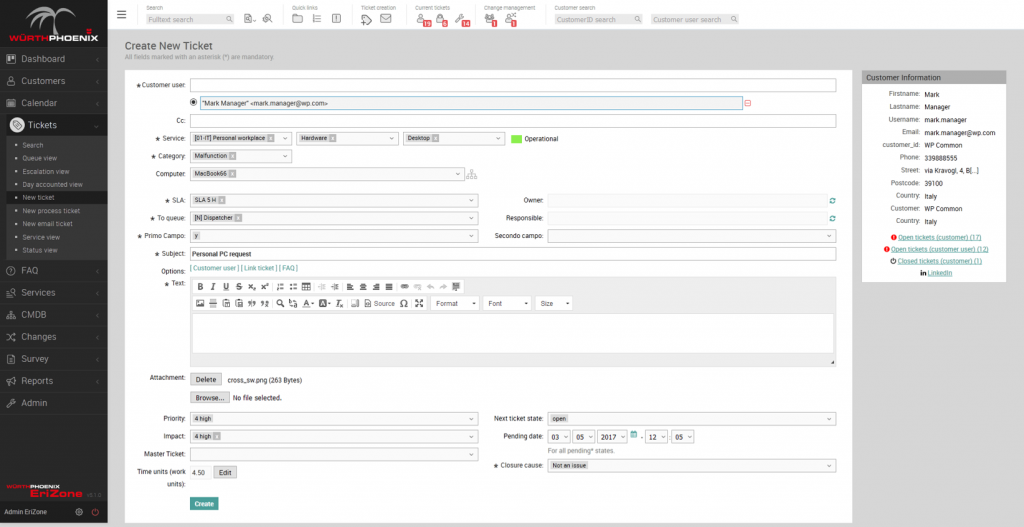 HTML printing support preview: The PDF printing functionality has been improved with the last version of EriZone 5. It is now possible to print all images and html included in the ticket to a PDF file. In this way, the generated / printed PDF becomes a true copy of the original ticket that can be used in different offline scenarios.  For instance, sometimes it's useful to have a hard (printed) copy of the ticket, for example to hand in a report to meeting participants.

Service translation support on agent and customer interface: it is now possible to translate the service catalogue based on user localization settings
OTRS calendar add-on integration: the newest OTRS 5s calendar add-on has been integrated.
Service catalogue by customerIDs: it is now possible to associate services from service catalogues to customerIDs (previously it was possible to associate services only to customerID).
Minor Enhancements
Translation: complete availability of English, Italian and German translations
Email notification layout: new email notification layout
Under the Hood
Upgrade to OTRS 5.0.18
Major bug fixes on EriZone themes
New module AgentTicketPhoneSplit: during split functions, it is now possible to customize the form of the split with ACL and dedicated JQuery to provide a more tailored escalation form.
New ActivityDialogLink: It is now possible to 'call' an existing EriZone module (i.e. AgentTicketPriority) through process management buttons
Try it now!
All new features and enhancements are available also on our EriZone Online Demo.
Preparations before upgrading from EriZone 5.0 to EriZone 5.1.*
Snapshot of the Virtual Machine
Activate the repo resolution with the following parameters in Admin >>SysConfig:

Package::RepositoryRoot:

http://repo.wuerth-phoenix.com/erizone/erizone-5.1/repository.xml

Package::RepositoryList:

KEY: http://repo.wuerth-phoenix.com/erizone/erizone-5.1/packages/
VALUE: erizone-5.1 packages

Create a new configuration file: /etc/httpd/conf.d/zzz_erizone.conf with the following content:
ScriptAlias /erizone/ "/opt/otrs/bin/cgi-bin/"
Alias /erizone-web/ "/opt/otrs/var/httpd/htdocs/"
#force redirect
RedirectMatch ^/$ /erizone/customer.pl
RedirectMatch /otrs/customer.pl /erizone/customer.pl
RedirectMatch /otrs/index.pl /erizone/index.pl
Upgrade Steps
Upgrade OTRS framework to version 5.0.18 through yum service:

yum update https://ftp.otrs.org/pub/otrs/RPMS/rhel/6/otrs-5.0.18-01.noarch.rpm

Upgrade packages via Admin >> Package Manager; the upgrading procedure must be made STRICTLY with the following sequence:

ITSM
OTRSTicketMaskExtension
EriZone
EriZoneCore
EriZoneServiceDeskEnhancement
EriZoneTheme
EriZoneAccessManagement

Optionally, In order to activate HTML printing functionality the following .rpm are also required; please install them through yum service:

yum install -y xorg-x11-fonts-Type1 –enablerepo=erizone
yum install -y yum install -y xorg-x11-fonts-Type1 –enablerepo=erizone
yum install -y wkhtmltox-0.12.2.1_linux-centos6-amd64 –enablerepo=erizone

Activate the new feature with the following parameters in Admin >> SysConfig
ServiceDeskEnhancement
Core::PDF : HTMLToPDFCommand
Set EriZone ServiceDeskEnhancement
Core::PDF :IncludeHTMLImageReference
Please follow these rules during the upgrade/install procedure:
Contact our support team if you do not feel comfortable on any operation net.support@wuerth-phoenix.com or https://erizone.wuerth-phoenix.com
The packages must be installed in sequence and individually
The system may take longer or shorter times for each action / package so please be patient
Action buttons must be clicked only once for the success of the operations
 ATTENTION After the upgrade execute the following action from the command line: /opt/otrs/scripts/EriZone/erizone.global_makelink /opt/otrs/scripts/EriZone/Permissions.sh /opt/otrs/scripts/EriZone/RestartEriZone.sh
IT System Management
,
ITSM
,
monitoring
,
NetEye
,
New Release