11. 11. 2009
Andrea di Lernia
NetEye, Unified Monitoring
Interview with Ethan Galstad
For all those interested on how it all began with Nagios: We had the opportunity to ask Ethan Galstad firsthand during a Nagios event in 2009 in Italy. Enjoy!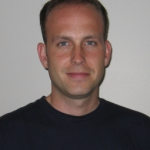 Ethan, what are in your eyes the major success factors for Nagios?
Ethan Galstad: There are a number of factors that I believe have contributed to the success of Nagios. First, the choice to design the program in an abstract manner led it to be attractive to developers and sysadmins.  Nagios was designed to make use of and re-use external applications, rather than be an all-inclusive application that did everything itself. This meant admins could use tools they were already familiar with to extend Nagios' capabilities and integrate it with their particular environment. The flexibility provided by this abstract architecture has resulted not only in valuable user-contributed technical enhancements to the project, but widespread deployment of Nagios in various infrastructure environments.

Word-of-mouth advocacy by Nagios users has also been key to the project's success. There has never been a marketing budget for Nagios, so its growth can largely be contributed to the Nagios community and the viral marketing its members bring. Community-driven advocacy of and development around Nagios has created a very strong project ecosystem.
Multiple distribution channels have no doubt contributed to Nagios' success as well.  Users can obtain Nagios not only directly from the source tarballs, but also via user-contributed RPMs and packages, and indirectly by using third-party commercial and OSS distributions that provide them with a Nagios-powered solution.
And what are the main advantages for companies using your solution?
Ethan Galstad: The biggest advantage of using Nagios in any environment is that it offers a great deal of flexibility in how it can be configured, implemented, customized, and integrated into an existing infrastructure. Most other monitoring solutions provide limited mechanisms for customization and integration, which means you either have to hire an expensive consultant to accomplish what you want, or, worse, you're left in a position where you can't do much at all.
Aside from its flexibility and extensibility, many people choose Nagios because it actually works as advertised. I've heard from many sysadmins who run Nagios alongside Tivoli, Unicenter, or other solutions – sometimes without the knowledge of management. Why? Nagios works for them when the other solutions don't.
Cost savings has been an advantage of using Open Source projects like Nagios, but its usually not the overriding reason organizations choose such solutions. It may, however, become more of a consideration if the current economic situation doesn't turn around. IT managers will likely have to justify why they're spending millions of dollars in licensing fees for proprietary solutions when there are less expensive options available. And having a golfing relationship with the vendor's salesperson isn't easily justifiable.
What´s was your differentiation strategy to other Open Source projects?
There's no specific strategy to set Nagios apart from its competitors – Open Source or otherwise. I've always believed in focusing on the needs of Nagios users when determining future development direction, rather than focusing on the competition.  That's not to say that competing products don't have feature sets that are considered for inclusion in future releases of Nagios. Its just that I've made sure the project has remained focused on meeting the needs of its users with the right level of abstraction.
Tell us about the role of the worldwide community in this context. How much people are involved in it?
Ethan Galstad: We estimate there to be roughly 250.000 Nagios users worldwide – all of whom are members of the greater Nagios community. There are probably 30 to 40 "core" members of the community that play a key role in advocacy, development, and innovation. Some community leaders provide assistance to new Nagios users, while others focus on developing addons, running wikis and forums, or getting involved in the core development of Nagios and the plugins. They play key roles in ensuring the success of the project.
The community is the biggest strategic advantage that Nagios has over its competitors – both Open Source and commercial.  Millions of dollars in investment can't automatically create a healthy, vibrant community like the one surrounding Nagios. Its a good thing too, because we haven't historically had access to that kind of investment.
How is this all manageable? Are you still involved in development?
Ethan Galstad: I'm still involved in the development of Nagios, although my role has definitely changed over time. I've experienced my share of pain associated with the growth of Nagios over the past ten years, but I've always managed to stick to it and keep things going. For instance, I split off the Nagios plugins project early on in order to relieve some of my development duties and get more people involved to help out. That was one way I helped relieve some of the burden from myself as the project grew.
Today, I'm now moving into the role of architectural design, instead of being the primary developer. Most of the new features being implemented in Nagios today are the direct result of contributions from the community – I simply approve, reject, or modify code contributions as they come in. I also spend a great deal of time with the business and legal aspects of the project. Managing the growth of the project has always been a challenge, but it has also been an exciting ride.
Why and when came the decision to invest in Open Source projects?
Ethan Galstad: The decision to release Nagios as an Open Source project was made very early on. At the start, I was hesitant to release Nagios under an Open Source license, as I was planning on using Nagios for commercial services and didn't want to give my competition any additional advantages. I knew, however, that I would be able to quickly improve the product based on feedback and contributions from the user base if I released it as an Open Source project. The decision has proven to be a wise one, as the project has far exceeded any expectations that I had for it back in 1999.
What´s the business model behind Nagios or is it a pure "good Samaritan" initiative?
Ethan Galstad: For the first seven or so years I was developing Nagios as a hobby, without concern about there being a business model behind it. Looking back, this was beneficial to the growth of the project, as there weren't any conflicts of interest between development, community, and businesses ideals. I think that's where a lot of commercial open source companies go wrong when they get started.  They need to focus on revenue generation (and rightly so), so the growth of their respective communities and the viral nature of the associated Open Source project never take off like they otherwise might. You can't easily grow of a project and its associated community by throwing money and marketing at it
We launched Nagios Enterprises in late 2007 to begin commercializing the Nagios project. To date, our main revenue sources have been from advertising and consulting.  Based on requests from the community, we're now moving in a direction where we'll start offering support contracts and training options for and around Nagios. We're also considering offering commercial versions of Nagios that target specific markets. With any commercial venture we pursue, we always make sure we consider its impact on the project. We're committed to ensuring the continued success of Nagios.
Do you have any financial benefit from the whole project?
Ethan Galstad: Nagios is my full-time job these days, and its where I derive my income. I left my day job a few years back to focus on Nagios and the commercial efforts of Nagios Enterprises. Its been an extremely rewarding experience and has allowed me to continue to work on something I love.
Do you see yourself as serious competitor to namable commercial providers?
Ethan Galstad: There was never a goal of becoming a major competitor to commercial vendors. I simply focused on ensuring that Nagios users had a voice in the direction of the project and building what they wanted. That's how Open Source works. The result of Nagios' success is that it has emerged as a major contender to commercial offerings like Tivoli, Unicenter, Solarwinds, and What's Up Gold. I've spoken with ex-employees from various IT management/monitoring vendors and what they tell me is always the same – Nagios is viewed as a serious threat internally by the sales teams. Whether or not they admit that publicly is another matter.
Where will Nagios and Open Source in general be in 2020?
Ethan Galstad: Nagios, like other OSS projects, continues to evolve. How it evolves, and where it goes in the future, depends on the needs and requirements of the users. I do believe that Nagios will continue to grow and become an even more serious thorn in the side of other competing solutions on the market. Increasing involvement from the community and user-driven innovation are certainly key for the future, as are efforts to focus on integration and interoperability.
Likewise, I believe Open Source in general will continue to succeed and make inroads into new markets. Primarily because of the flexibility  of OSS solutions to be used in a componentized fashion to build better solutions than those offered by proprietary vendors. As policymakers, managers, and decision-makers realize the benefits of open protocols, data formats, and APIs, there will be a natural shift towards using proven Open Source solutions that have had these attributes as cornerstones for years.
Ethan, thank you very much for taking the time for this interview
Latest posts by Andrea di Lernia
See All