23. 12. 2008
Patrick Zambelli
Unified Monitoring
Check multiple network devices of a single host
Problem: A cluster server system may have multiple network interfaces  It is of interest to monitor all single devices for availability, while having the advantage to define only one host. – the host on which the network cards are installed.
First define the server as host in Nagios, before following the next steps. (This example configuration is accomplished in Würth Phoenix NetEye making use of the configuration manager Monarch)
Define on this host the service check "PING" defining in the command definition not the argument -H HOSTNAME but -H as one variable argument i.e $ARG1$
Example command: "$USER1$/check_icmp -H $ARG1$ -w 1000.0,20% -c 1200.0,50% -p 5"

In the section "Multiple instances" define now an instance name for each network interface and click "Add Instance"

define now the specific arguments to pass as hostname of the network interface to check. For example pbzbs01eth04 stands in the example below for ethernet 04 on pbzbs01.
As shown in the screenshot below each instance gets the argument separated by "!", where the only argument is $ARG1$ for -H, the hostname on which to run the ping.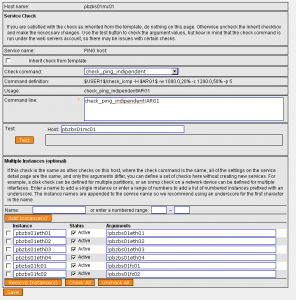 Latest posts by Patrick Zambelli
See All