08. 05. 2018
Georg Kostner
Predictive Analysis
The Future of NetEye
NetEye unveils redesigned interface with fully enhanced monitoring capabilities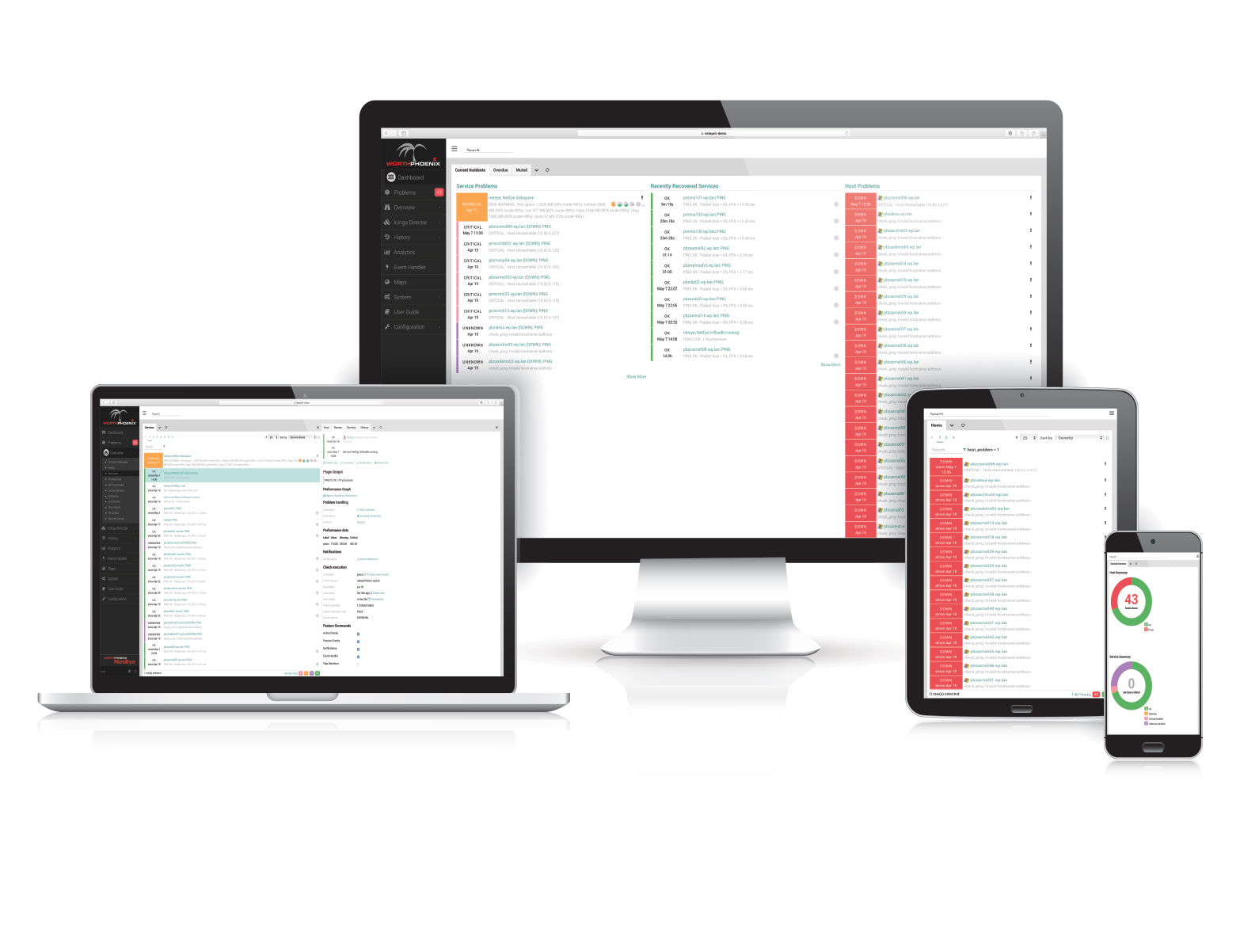 We are proud to announce that we are continuing to innovate with our NetEye 4 monitoring solution. This major update provides a significant step forwards, and is the clear result of the development of our business solutions synchronizing with market demand.
This new version is a complete overhaul of the platform that is intended to allow further scalability thanks to a new monitoring engine and investing in the future with container technology. In addition, it includes a brand-new graphic interface, which offers an optimized user experience.
As a minimum viable product (MVP), NetEye 4 includes only the core features necessary to satisfy customer's needs. Our development team will deploy the product to a subset of customers (early adopters), and will integrate all future enhancements based on their feedback.
NetEye is part of a new development strategy that follows an iterative process of idea generation, prototyping, presentation, data collection, analysis and learning. The cycle ends only when the desirable product/market fit is achieved.
With a redesigned solution that now runs on HTML5, NetEye not only has a streamlined look and feel, but also rebuilds both the back-end technology and the framework itself.
NetEye features a number of important new aspects that either have been, or are about to be, released:
NEWLY REDESIGNED USER EXPERIENCE
Today, user experience is a key factor in software development. A well-designed UX is able to create quality and satisfying interactions between customers and providers. NetEye has been totally redesigned with a modern and intuitive user interface. Users can perform the actions they need effortlessly. NetEye now runs on HTML5, all modules have been tightly integrated into the core framework, and the application has a responsive design which makes it render well on a variety of devices and screen sizes.
INNOVATIVE FEATURES
NetEye 4 has a new architecture. It is based on Icinga 2, including and extending all of its innovative features for distributed monitoring and rule-based configuration. NetEye 4 is also high performance: its multithreaded design allows it to execute millions of checks. Last but not least, NetEye will add Elasticsearch, Influxdb, Docker and Kubernetes as key points of the core technology by understanding user needs.
CLOUD-READY
The container technology we use employs lightweight OS-level virtualization that allows an application to run while keeping its dependencies in a resource-isolated process. Containers are becoming ever more utilized in our software-driven world. NetEye 4 ensures you have the right capabilities to monitor and use this technology and to optimize its performance. At present this is an internal investment which we hope to show to our customers as soon as possible.
HIGHLY SCALABLE
NetEye 4 has been designed for high scalability. The Unified Monitoring Solution lets you perform over 1M checks and supports distributed and industrial monitoring strategies. NetEye 4 now also offers brand-new NetEye Satellite Mini-server devices to implement a low-cost distributed monitoring solution.
AUGMENTED SECURITY
NetEye 4 is compliant with the upcoming security and privacy law (GDPR). It has been developed following modern security standards (encrypted communication based on SSL, client-server certificates, and secure passwords).
MULTI-TENANCY
NetEye's multi-tenant architecture is designed to run a single instance of software on a server in such a way that the instance serves multiple tenants. Multitenancy is also becoming a commonly used architecture and thus more important to cloud computing. This is a fundamental target we would like to address with NetEye 4, and container technology will form a core part of reaching this target.
PREDICTIVE MAINTENANCE
Imagine if automated alerts could notify you in advance, offering you all the time you need to take proper action to solve potential problems in your IT infrastructure. NetEye 4 core technologies let us imagine turning this dream into reality by introducing forecasting algorithms that use machine learning to analyze your network's evolving performance. NetEye 4 can predict and visualize future trends to notify you in advance about potential upcoming issues.
---
NetEye 4 represents a major step forward in Unified Monitoring. NetEye has been used by our customers over the past 15 years with great success. We are certain that our new Version 4 will significantly enhance your ability to analyze your network and system infrastructure, allowing you to respond comprehensively to the new requirements of a transforming digital world. NetEye 4 includes all the new, innovative features of Icinga 2 while offering a robust, distributed monitoring strategy.
Some other features are already planned on our product roadmap, ready to be delivered in the upcoming months. For example, we will provide a new NetEye Satellite Mini-server designed for NetEye 4 along with nBox to better support distributed monitoring strategies.
A free trial version will be soon available as a Docker image. For more information on NetEye 4, please contact us at neteye@wuerth-phoenix.com.
Latest posts by Georg Kostner
See All