10. 04. 2020
TobiasGoller
Service Management
News from SOS JobScheduler
As you may already know from our other blog posts, Würth Phoenix is an official partner of the German company SOS Berlin, the creator of the SOS JobScheduler. In our role as partner, we not only resell the JobScheduler solution, but also offer consulting activities for SOS JobScheduler implementations, sizing and so on.
Today I want to talk about the major developments in SOS JobScheduler, specifically about the improvements in the JobScheduler Operations Center (JOC) Cockpit, which is the end user interface for JobScheduler.
When I recently updated the JobScheduler environment from 1.12 to 1.13.3 for one of my customers, I was finally able to test and try out this long-awaited configuration interface in detail.
Beginning with release 1.13.1, the JOC Cockpit includes the functionality of the JOE Job Editor and the XML Editor. Therefore JOE and XML Editor are no longer required.
This means that from now on the configuration of the JobScheduler, i.e. the creation of jobs, job chains, orders etc. can be easily created and managed just via the JOC Cockpit web interface itself.
Until now, you always had to start a separate X interface to be able to carry out the configuration. This X interface had no access management and was relatively tedious to use.
Since the configuration interface is now integrated into JOC Cockpit, you can use all the advantages of the JOC Cockpit, such as user and role management for access to the various modules in the JOC Cockpit. For instance, access rules can now be created for the configuration interface.
I would also like to emphasize the simplicity of the upgrade procedure.
Provided that the system requirements for JobScheduler 1.13.3 are met, the upgrade procedure runs smoothly.
After the upgrade procedure has been successfully completed, the existing JobScheduler configuration can be changed via the JOC Cockpit. So no import or other additional configuration is necessary.
The display of jobs and their dependencies has also been significantly improved in the new version. Now you can clearly see the process and the dependencies of the jobs in the detailed view of the JobChain via a graphic display. This is a huge improvement in the handling of the JobScheduler.
Here are some screenshots of the new feature:
In the following image you can see the new feature button to access the configuration module:

In this image you can see the menu for new Jobs, Chains, Orders, and so on: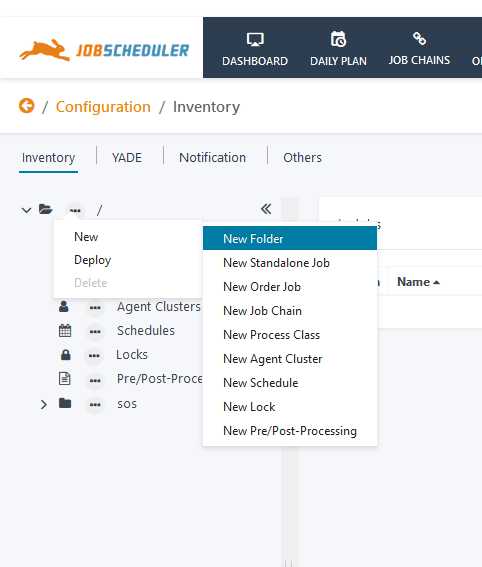 Finally in this image you can view the creation or modification of jobs: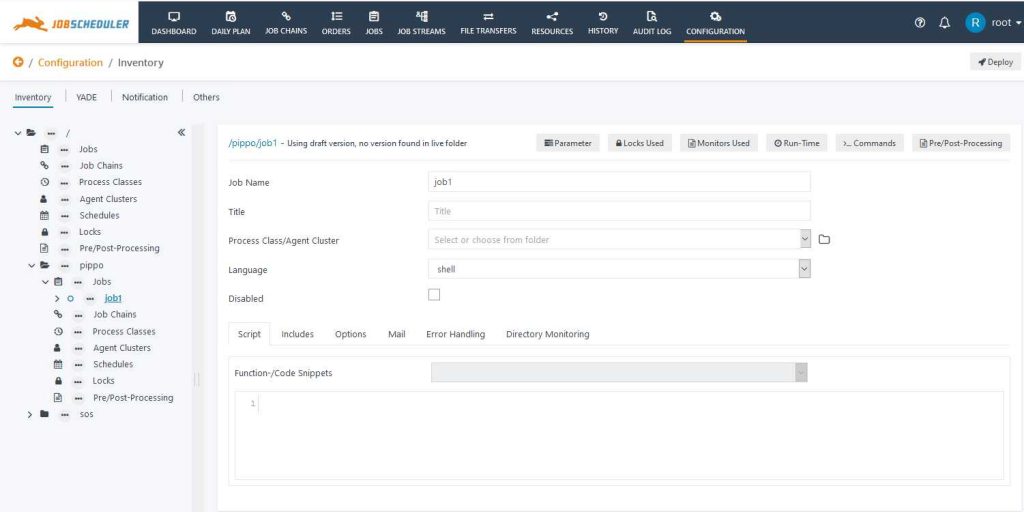 Latest posts by TobiasGoller
See All